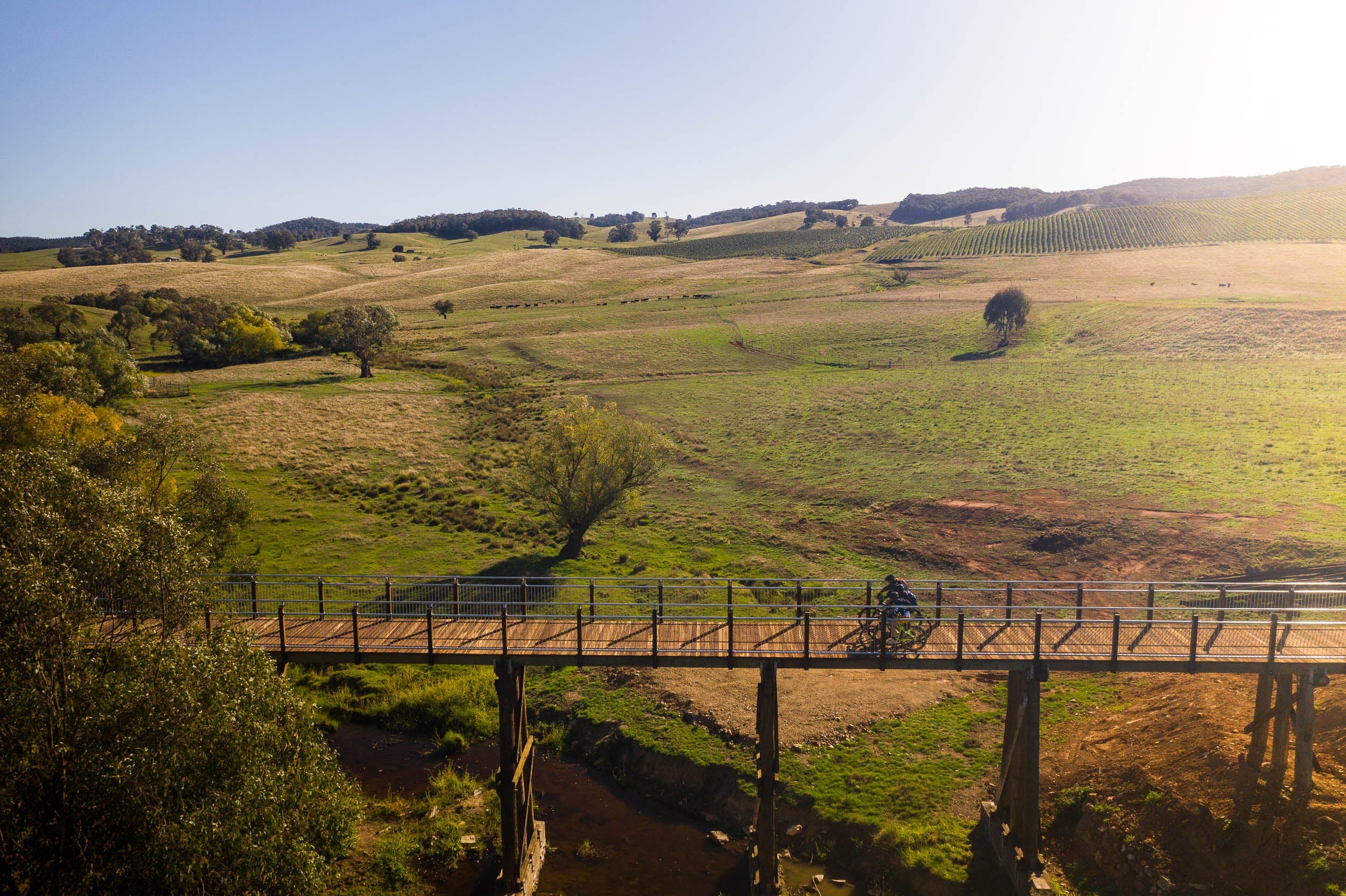 The Tumbarumba to Rosewood Rail Trail is made for walking, cycling, pushing, strolling, pedalling, rolling and relaxing.
Relax and enjoy beautiful scenic countryside and spectacular mountainsides with safe trails for the whole family – you'll find over 21km of sealed trail with gentle gradients and sweeping curves. Download the Rail Trail guide (including map) here.
For more information please visit the website: Tumbarumba to Rosewood Rail Trail (tumbarumbarosewoodrailtrail.com.au)
The official Trailheads are at Figures Street, Tumbarumba and McEachern Lane, Rosewood, but many join the trail at Sawpit Creek, just outside of Tumbarumba.
Enjoy Wolter Cottages, at the beginning of the Rail Line, with two heritage listed buildings from the 1870's including a historical display.
The Rail Trail has many historical displays and features four restored bridges from the original Rail line. These bridges are of significant historical importance, being of timber trestle construction, and have been preserved in the reconstruction and refurbishment process. Mannus Creek Bridge is a seven span tall bridge which also features an inbuilt curve, a master piece of bridge building.
Please note: No horses or dogs are allowed on the trail.
HISTORY
Work began on the Wagga Wagga to Tumbarumba railway line in 1912 and was completed in 1921. Over the next 54 years, the use of the line was vital to the development of the area – with many 'unofficial' stops allowing access to many users. The station heads were based from existing small communities with shops, schools and post offices. Wolseley Park Station was an employment hub with a major dairy factory, mechanics institute and store. Tumbarumba Station provided transport necessary for timber, agriculture products and stock moving to High Country Grazing. The rail line allowed passengers to travel to Wagga Wagga and back in a single day right up until 1974 when it ceased operations.
In 2003 the concept of creating a rail trail from the unused line was formed, and in 2015 NSW Government funding was received after years of hard work largely by volunteers. The rail line corridor was officially closed in 2017, and in 2018 the corridor was transferred to crown lands with Snowy Valleys Council entrusted with its management. In 2019 construction began and in 2020 it was completed to become the first Rail Trail NSW on government owned land.