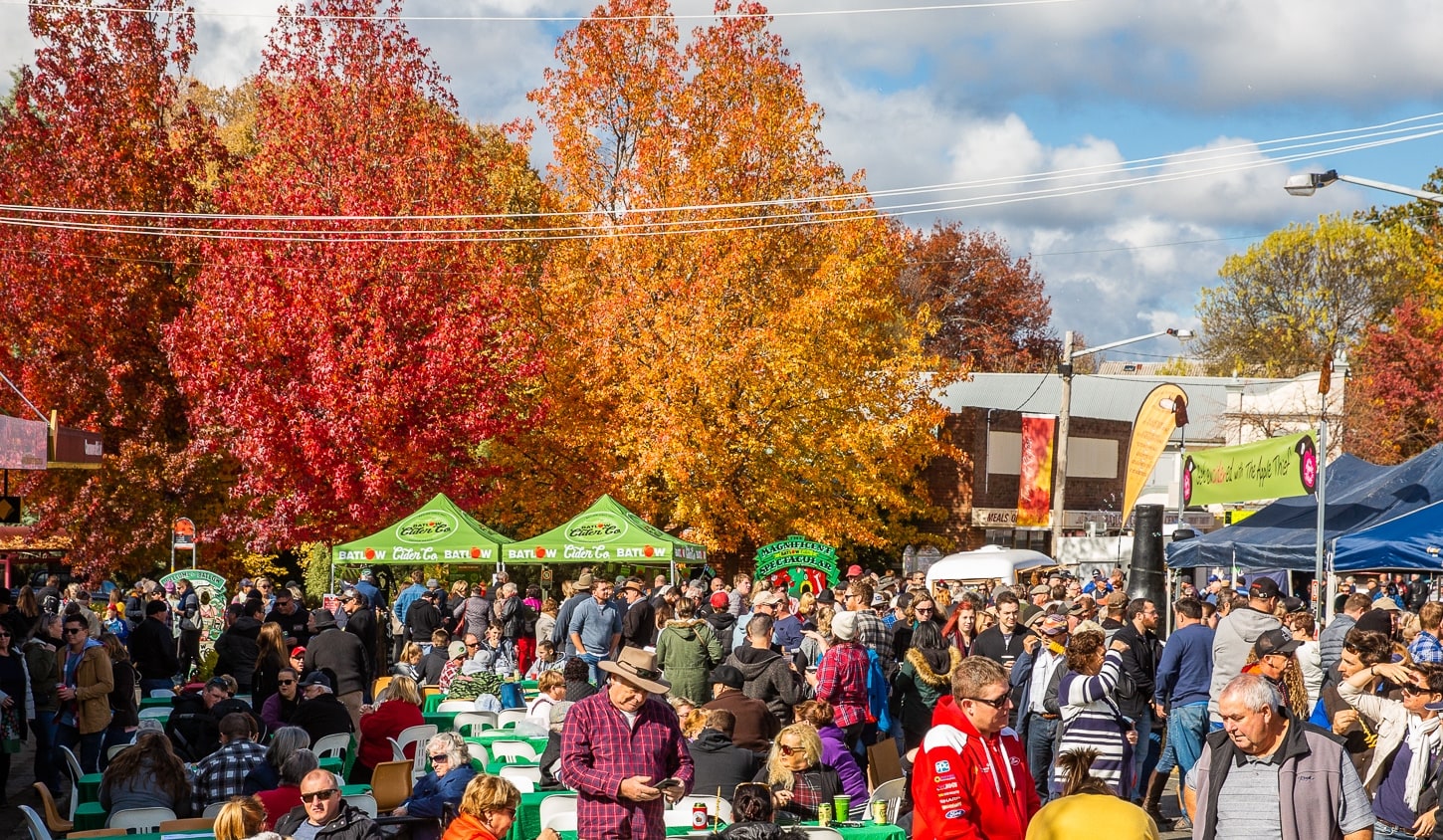 Every year, when the last of the apples are harvested, the clear mountain air turns crisp and the town is awash with vibrant autumn colours, Batlow comes alive with its famous CiderFest. Arguably the biggest tourism event in the region, CiderFest is a three-day extravaganza celebrating local and national boutique cider brewers and premier local producers.
From humble beginnings in 2012, thousands of cider-lovers from all over Australia now descend on the town for the award-winning festival. Accompanied by cider workshops and unique orchard tours, CiderFest is officially celebrated with a street party like no other. The historic town becomes a bustling hub of food and drink stalls, live entertainment and the notorious "Apple Tarts".
Tantalize your tastebuds 'til your hearts content
CiderFest is a food and drink connoisseur's oasis, with stalls showcasing local and national boutique ciders, craft beer and wine, delicious gourmet food and beautiful home produce lining the busy streets. Experience cider from the source with local cider companies including Wilgro Orchards, Crafty Cider and many more sharing a drop or two. There's also plenty for the wine lover, with wines from the famous Tumbarumba region also on show.
The food scene is complete with specialty sausages, roasted chestnuts, crispy fresh sourdough and other homemade treats. A crowd favourite with locals and visitors alike is the Pork Apple Cider pie and Batlow's very own gourmet sausage, the 'Batwurst'.
A treat for the eyes and the ears…
While enjoying Australia's premium fermented apple drops and delicious food to match, CiderFest brings some iconic entertainment to town. CiderFest also plays host to two stages, showcasing talent from across the region as well as touring artist from Melbourne and Sydney. CiderFest's Wacky Apple Tarts add to the party atmosphere, while buskers and street theatre artists entertain the crowd with an eclectic mix of tunes and performances.
The festival also offers the opportunity to explore Batlow's burgeoning art scene, with the event also playing host to an exhibition of quality local art on paper, canvas, 3D works, fibre works and photography.
For the nature & cider enthusiast…
CiderFest kicks off with a series of workshops that are perfect for the nature enthusiast and cider-lover. Join the "back to nature" conference and learn about how to create a healthy home, fermenting foods, homemade sauerkraut, probiotic kombucha and kefir cheese and herbal medicines.
For the merry cider-lover, there's a "Taste and Learn" session, where some of Australia's leading cider makers will guide you through the world of craft ciders as well as the ins and outs of the cider industry. This is then followed by an "InCiders" session, where you can deep dive into the world of cider, hearing stories and ideas from cider gurus while enjoying tastings, canapes and entertainment.
One-On-One from the masters…
Following Saturday's street party, why not experience first-hand how to produce cider with a 'meet the growers' session. Join Batlow's local hand-crafted cider makers on cidery and orchard visits and learn all the tips and tricks of brewing the perfect cider from harvest to glass.
Make the most of your journey…
During your visit, take in all that Batlow has to offer and explore the region's wonders including Pilot Hill Arboretum, Adelong Falls Gold Mill Ruins, and Paddys River Falls.
For more information on Batlow CiderFest and all the weekend activities, please visit www.batlowCiderFest.com.au